Tribute to Wensdy Whitehead
To Wensdy Whitehead, view tribute words & images, plus testimonials.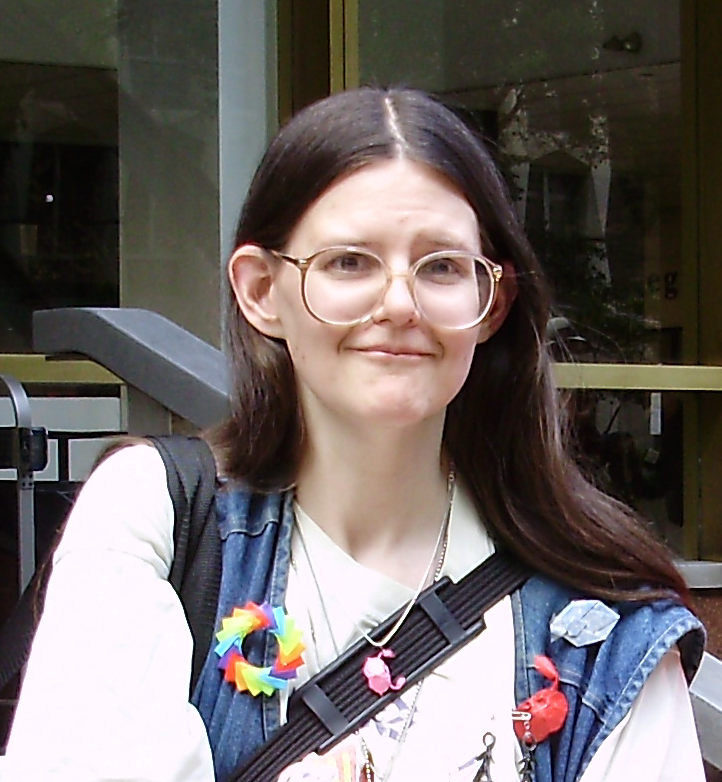 Biography: Wensdy Whitehead was born June 24, 1971, in Midland, Michigan.  On May 7, 2023, at the age of 51, she died in hospice care from metastatic colon cancer in the loving care of family and her many origami friends.
She was cherished by her parents, George and Winnie Whitehead, who were blessed with a daughter later in life.  Wensdy attended many academic and artistic enrichm
ent classes, including guitar lessons and learning origami.  Due to her academic success, she received a full scholarship to Cornell University where she graduated with a Bachelor of Science in Computer Science in 1993.  She lived in the German House, a residence hall, where students spoke German instead of English.  She studied in Germany, her junior year, attending the University of Hamburg.  In 1994, she joined the Army to become a translator.  She then moved to Massachusetts in 1995 to work as a software design engineer at VideoGuide, receiving two patents in 2002 and 2005 for Interactive Program Guides.  She lived in many cities in Massachusetts, mostly in Somerville, and later in Medford.
Wensdy began folding at age four, two years before she ever heard the word "origami."  Her mother started her off with a couple of traditional models, and by age nine she was off hunting for origami books to feed her creative appetite.  After college, she became active in the origami community, becoming a regular at local origami groups and national conventions.  These became the platform to showcase her own original pieces.  Her folding sequences were both clever and accessible, with a knack for choosing interesting subject matter.  Notable series include entire words and phrases created just through folding single sheets, and integrating heart shapes onto traditional models to give them new meaning.  She had success exploiting the geometries of dollar bills, created a book on the subject: Election Money Folds 2012.
One of her "breakout" models was the sorting hat from the Harry Potter movie, everyone wanted to learn it at the convention.  All that attention was very new to her; a bit stressful but she very much enjoyed it.  She was socially awkward but very easy going and this made her very easy to work with and learn from.
She created a huge variety of models, simple models, complex models, one-piece models, modulars, dollar folds.  She would fold from anything.  She especially liked folding from recycled material.  It was a fun challenge for her.  Sometimes she would show up late to an origami gathering because she was up all-night designing.
She was well known for her collection of tiny little models; she could fold such intricate detail in very small models.  One extraordinary model was a miniscule working model of a flapping bird.
Her designs have been on exhibit at the Peabody Essex Museum and other venues.
She had a fun sense of humor filled with folded puns.  Outside of her origami accomplishments she was a smart, intellectual, and caring person.
And view:
Further Details: Print Wensdy's tribute flyer and save the memorial date! Email Lisa@OrigamiMuseum.org for the link.
Copyright Note: Distribute freely with credits required.  For commercial use, contact OrigamiUSA.
Tribute Words

Speaker 1: Quote by Cousin Mary Wenzel
"There were 8 first cousins on the Whitehead side of Wensdy's family. When my husband and I celebrated our 50th anniversary in 2011, it was the only time we were all together – Bill, Jan, Mary, Philip, Juliet, Melissa and Wensdy. Mark had passed away."
Wensdy was born on a Thursday, not a Wednesday. I don't remember the origin of her unique name, maybe I never knew. Wensdy was so intelligent and talented. She accomplished so much in a too short life. She received a full scholarship to study computer science at Cornell. She spoke fluent German, certified by the Goethe Institut. She had two patents for software design engineering of Interactive Program Cable Guides.
She was also a creative genius. As a child, she could solve a Rubik's cube in a couple minutes. I realized that this geometric skill was the same spatial wizardry that she later applied to her Origami. Our family knew that Wensdy loved Origami and could fold paper in ways beyond our comprehension, and that she had exhibits in museums. But I didn't realize until she had died in May, and I met her Origami friends that she was a renowned Origami savant, beloved by the Origami community.
I met Wensdy at an origami convention at FIT in Manhattan.
At this convention my sister Annie had been telling me about this cool lady I had to meet. Her name was Wensdy and she had this fantastic talent for folding the tiniest origami she'd ever seen.
Wensdy had a table in the origami exhibition of what she called minigami and I had to see it.
When I met Wensdy she showed me this collection of tiny little models she had folded. I was impressed.... read on!

I started folding in 2001. My first origami convention was in 2006 in NYC.  I didn't meet Wensdy there, but I met Milli McMuffin who told me about her group called Paperfolders In New England, PINE, in Needham, MA, only a 5-minute walk from work.  Wensdy (a life-long origami artist), and I began folding together there.
Early on, there was a conversation.  It was the subject of her name.  It is important to spell it right, W-E-N-S-D-Y.  Wrong spellings, and pronunciations are not good.  She loved her name; Wensdy honored her parents Winnie and George.  Her elementary school janitor started calling her Wednesday, later it became every other day of the week except Wednesday.  Hi Thursday!!!  That's Wensdy, that was who she was.
As we grew closer, she visited me.  If I had cheese or ice cream nearby, I would be delighted as she would stay longer.  We both loved cheese.  We connected.  As Wensdy would say, we were not just friends, we were "ORIGAMI FRIENDS!!!"  That was a strong bond.  Origami artist, Laura Kruskal was delighted by our friendship.
Tribute Gallery
Testimonials
Prior to the Memorial:
"I met Wensdy at the Ohio convention.  Her dollar bill folds completely stun me.  I do dollar folding, but not to her ability." -Kathy
"I knew she'd met and was impressed with Mr. Yami Yamauchi, (they're leaning against a fence overlooking NY), because after she returned to Massachusetts, she taught me how to fold his Origami Fireworks model and talked about him and shared other models – that photo stirs up such happy memories! Thank You!" -Tanja
At the Memorial:
During the Memorial Zoom, there was some book chat.  Origami museum director Laura Rozenberg asked the title of a book series The Murderbot Diaries by Marth Wellsby, and of a book Fuzzy Papers by H. Beam Piper.  Good tea-talk while celebrating our kind, intellectual friend.
"Thank you, Lisa, for all you did to organize this wonderful tribute and opportunity to share our memories." -Lloyd Simon
"Thank you very much Lisa, Jonathan, Mitch, good friends of Wensdy and family… a beautiful meaningful tribute to someone I wish I could have gotten to know.  But I treasure the nice weekend at thanksgiving as a special time among good friends who love art and literature, origami and being together.  Thank you.  What a very nice and tasteful tribute.  May Wensdy rest in peace and know she shared a wonderfully fertile and inspiring clever life.  She gave so much!  Many thanks." -Tamara
Wensdy's cousin Cait wrote, "Hello everyone.  Just wanted to say thank you for everyone's memories of Wensdy and thank you for putting this together in her memory. She would have loved it."
"Thank you all, it was a wonderful tribute." -Faye Goldman to the organizers.
"Thank you for this tribute and to all the teachers." -Aimee
"Thank you, José and André for teaching!" - Tanja
After the Memorial:
Wensdy's cousin, Melissa Whitney wrote "Wow!  That was incredible!"  I responded, "Yes and thank you!  Everyone made it amazing."
Origami friend Jennie wrote "The memorial was great.  Thank you for doing that, Lisa" referring to the memorial.  I responded "It meant a lot in so many ways to me.  Thank you for speaking!"
"Thank you for putting together such wonderful tributes to Wensdy -- both today's online memorial, and her page on your Origami Museum website -- both extremely well done. The memorial today added a new dimension to the life of a very deserving, talented and generous folder.  You expressed your desire to keep Wensdy alive through these efforts, and I think you are doing just that. Thank you" –Gay Merrill Gross.  And I responded, "Thank you Gay.  Wensdy would be delighted that you are celebrating her life and shining a light on her legacy.  Your words mean so, so much!" –Lisa
"That memorial was beautiful and a great tribute to Wensdy. I almost started crying a few moments when Mary and Jennie and you were talking about her last days, but was glad it was kept so upbeat to celebrate her life and works.  Thank you for all the work you put into it -- I'm still surprised at how quickly you were able to sort and upload all her models and get photos together and everything - great job!" -Tanja
In response to my comment "Thank you, Wendy!  I think it [the Memorial Zoom] went really well, especially with the words and messages I received afterword."  Wendy Zeichner, the president of OrigamiUSA wrote "I agree. I think it went very well.  Thanks for all your work in organizing it."