Opportunities
Are you an origami creator?  Would you like to memorialize a origami figure?  Do you know details about traditional models not listed?  Are you interested in joining our board or would like to volunteer in other ways?  Here are a variety of opportunities!
Maynard Folds Contest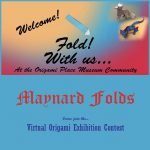 Submit to the your folds by Sunday, September 19, 2021!  On our Informational flyer, learn about our Maynard Folds virtual origami exhibition contest, the dates, locations, the idea of who can participate, submission information, awards we can grant, Q&A detail and acknowledgements.  Sponsored my the Maynard Cultural Council and OrigamiUSA, Lisa's virtual museum will showcase your work.  Both children and adults, novices to experts are welcome to submit.
You can discover all about the jurors in the About the Jurors flyer.
You can submit by filing out the Application and submitting an origami model.  The creator of the original origami model needs to be credited.
Note, here are the towns in the 20-mile-Maynard-radius catchment area:
Acton | Ashland | Arlington| Ayer | Bedford | Belmont | Berlin | Billerica | Bolton | Boxborough | Boylston | Carlisle | Chelmsford | Clinton | Concord | Devens |Dover | Framingham | Groton | Hanscon AFB| Harvard | Hudson | Lancaster | Lexington | Lincoln | Littleton | Marlborough | Maynard | Natick | Northborough | Sherborn | Shirley | South Lancaster | Southborough | Sterling | Still River | Stow | Sudbury | Waltham | Watertown | Wayland | Wellesley | Westford | Weston.
Register for the Maynard Folds Competition Info Session on Wed 9/1/2021 from 6:30-7:30pm.
View the Beacon-Village press release and the Action Unlimited press release and recent Action Unlimited highlight!
This will be in the upcoming Community Gallery.
Community Origami Clubs
Call for origami club managers in communities throughout the world!  We ask for details about the club, teachers, and folders, and their models created via the club.  There will be a blub about the club as a whole, history, demographics, and key details.  We can feature models of members who teach models with a biography written from the first-person perspective.
This will be in the upcoming Community Gallery.
Creator Submission
Basic Criteria:
Your Name
State/Country
Portrait or other image to represent you
Origamist Gallery Criteria:
Artist Statement: In first person – half page max
Biography: Written in third person (under 1 page)
Virtual Presence: All your web presence you would like listed. Contact info can only be listed in your artist statement.
Origami Model Gallery Picture(s): You created AND folded
Model title(s) and simple label details
Note:
If you have a large quality of models, you can have multiple origamist pages that you reach by clicking on content topics images on your main origamist gallery. Each specific topic page can include an artist statement and specifics on those models.
Memorial submissions
If you would like to memorialize an origamist no longer with us, please contact us.
Traditional model submissions
Images of traditional models including titles, key known history, and products or projects featuring them.
Board Members
Consult quarterly in this volunteer opportunity.
Volunteers
Help us build a museum in the way that best suits you. New types of leadership are welcome.
To submit your participant application please email Lisa B. Corfman at Lisa@OrigamiMuseum.org.