Recognition Wall
A huge thank you to our board, exhibitors, sponsors and patrons!
Board Acknowledgements
Lisa B. Corfman: Founder, President and Exhibitor (Since founding in 2017 to Present).  Lisa folds simply.  See an artwork with some of her creations. View Lisa's museum highlights.  Also, see Lisa's work at the Origami Place.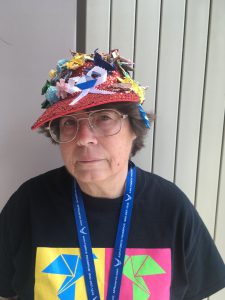 Susan Dugan: Photography Director (Fall 2018 to Present).
Various Anonymous: Board Members and PR
Exhibitor Acknowledgements
Gerardo Gacharná Ramírez Gallery – Colombia
Sanja Srbljinovic Cucek Gallery – Croatia
Zelimir Zlatic Gallery - Croatia
Paul Jackson Gallery – Israel
Oriol Esteve Gracia Gallery – Spain
Lisa B. Corfman Gallery – MA, USA
Rachel Katz Gallery – NY, USA
Marc Kirschenbaum Gallery – NY, USA
Edmund Liang Gallery– CA, USA
Sponsor Acknowledgements
Maynard Cultural Council.  OrigamiUSA.  The Witman-Polk family.
We cherish all!
Note of Thanks

Julia Bloom: Spring 2018 to June 2020 (Research Director and Secretary)
Julia was fundamental in our beginnings.  Julia's website tells about her.  We acknowledge her commitment with a letter of recommendation and we presented her with a certificate of appreciation and gift of thanks.
Patron Acknowledgements... THANKS!
Thank you everyone, whether an artist, teacher, caretaker, enthusiast of any type and to all patrons of the arts!